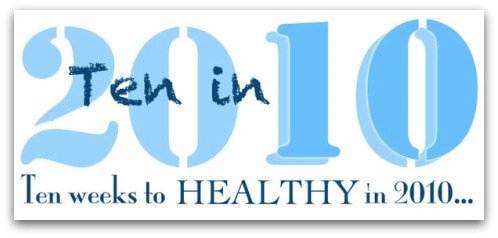 It's a new year and while I'm not trying to make any definite resolutions, I'm trying to get myself and my life in order. Part of that is my eating habits. They've fallen off, hard, and it's got to change. That was already set in my head, and then I saw my friend
Lara
post about
Ten in 10
earlier today. In these horrid winter months of January, February and March, a jumpstart like this seems like a great idea. It's also a great way to garner support, since there's a whole group of people doing this.
My official "goals" for Ten in 10 are very much about getting back to basics. Limit processed carbs, get back to healthy proteins, vegetables and whole grains, and try to do "some sort of" exercise daily.
Recipe Girl
, the creator of Ten in 10, is posting about it every Saturday, and I hope to do the same. Anyone else that wants to join (you can do so if you're on Twitter or you blog) still has time to enter - tomorrow is the deadline. Whether or not you participate in this event, I wish for all of you dear readers to have a healthy new year!